Strawberry Lemon Yogurt Popsicles – Three Ingredients
Fresh Strawberries and Lemon Slices, combined with creamy yogurt to make up these delicious frozen treats – who doesn't love Strawberry Lemon Yogurt Popsicles? Only three ingredients!
We have been on a popsicle kick all summer, buying new molds, making new flavors, trying different add in's and the like.
It's hot, at least it is here, and it's a great way to cool down on a hot summer day.
Plus popsicles are just easy to make because there are just so many ways to make the
I prefer making my own popsicles over buying them because when I do that, there isn't any added preservatives, flavorings (unless I put them there) or sugar.
My kiddo's don't need all that junk and they are perfectly happy with blended fruit or juice.
Plus they are much cheaper when you make them, opposed to buying a healthier popsicle out of the box.
The worst part about them?
Waiting for them to freeze so you can enjoy them! haha
Printable recipe to follow below.
More Great Popsicle recipes
Recipe for Strawberry Lemon Yogurt Popsicles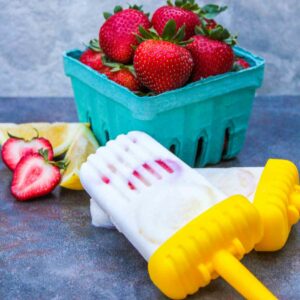 Strawberry Lemon Yogurt Popsicles – Three Ingredient
Strawberry Lemon Yogurt Popsicles are a healthy, great way to beat the heat of summer!
Ingredients
1 1/3

cups

Vanilla Greek Yogurt

2

lemons

1

cup

fresh strawberries

chopped or sliced
Instructions
In a small bowl, mix together the yogurt and the juice of one squeezed lemon until combined. Zest a little of the lemon – about 1/2 teaspoon or more. Stir in the lemon zest and gently fold in the sliced strawberries. We sliced ours and put them into the molds individually. If you'd like, thinly slice the lemon and place one lemon slice into each mold as well.

Divide the mixture into popsicle molds and freeze for 4 hours.

When you're ready to eat, dip the popsicle molds into hot water to release them from the molds. Enjoy!