Air Fryer Garlic and Onion Pretzels
Savory and salty, garlic and onion pretzels make a great snack and are really easy to make. Just pop in the air fryer or use your oven.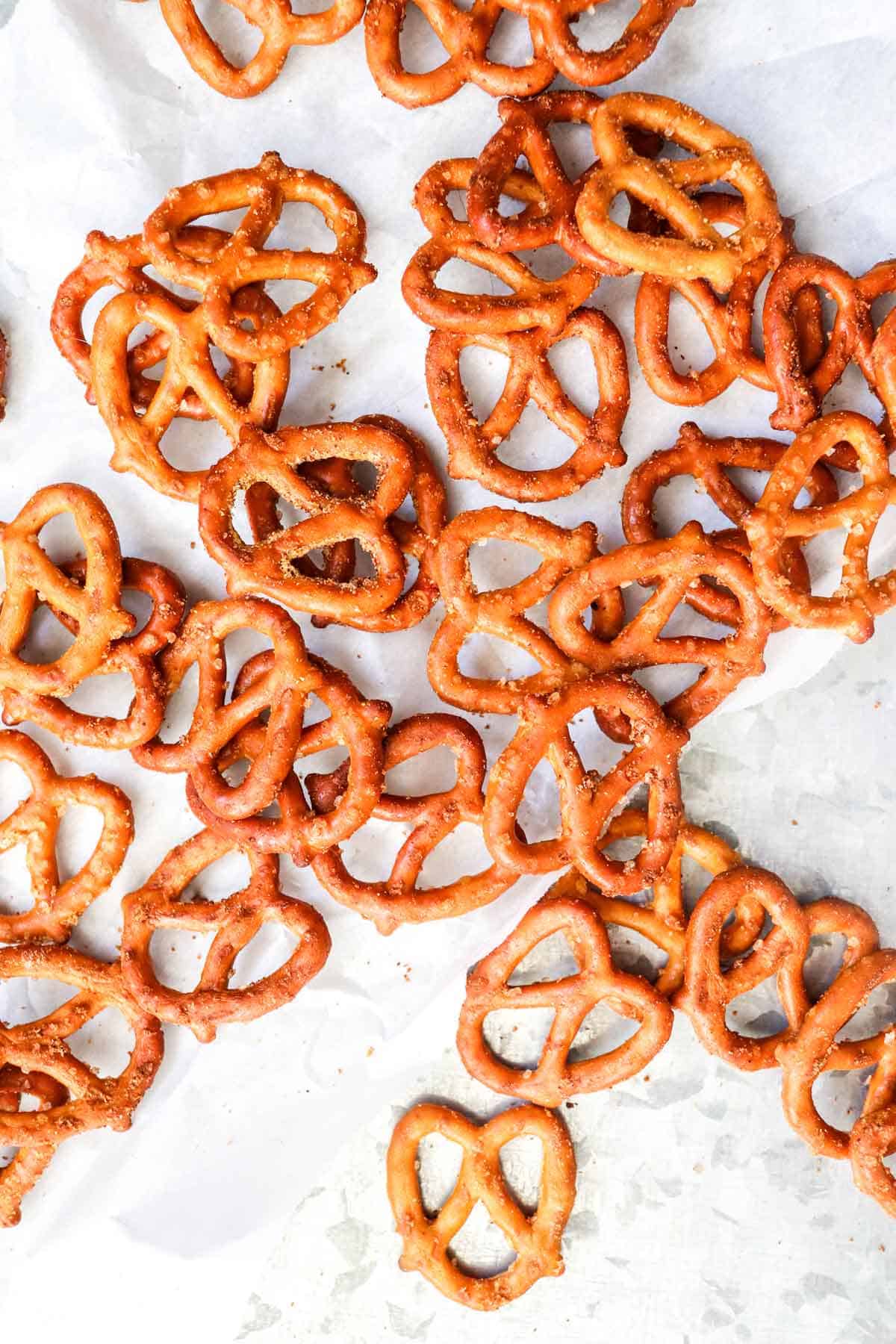 Why You'll Love These Garlic and Onion Pretzels
You really can't go wrong trying out this delicious snack!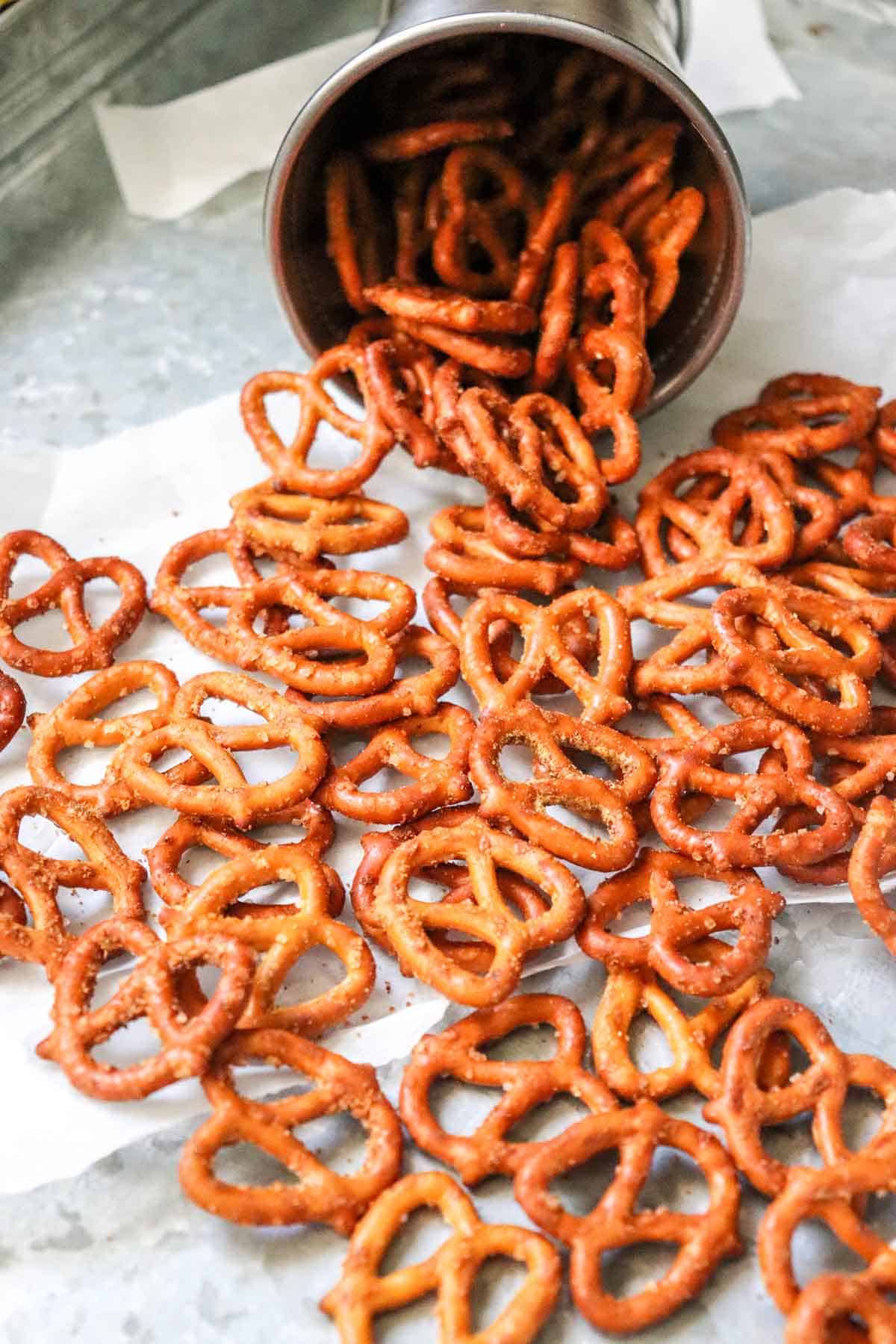 Tips & Tricks
Please read these tips & tricks so you don't repeat the mistakes we've made along the way getting the perfect coating and the perfect crunch. Plus you don't want to over cook them at all and it happens fast.
Follow each set of instructions for your chosen cooking method one by one to avoid any problems.
Using butter rather than oil adds more flavor, however oil can be used instead of butter.
Stick to the exact quantity of ingredients to be sure you don't have any problems getting the desired outcome.
If you choose air fryer method, please know that all air fryer makes and models operate differently and can require more or less cooking time. Keep a careful eye.
How to Make the BEST Garlic and Onion Pretzels
Ingredients you need for garlic and onion pretzels: mini twist pretzels, garlic powder, onion powder and butter.
Kitchen tools that you'll need are: large zip top bag. This is our preferred method and after trying many other methods including stirring it in, in a large bowl, we found this to be not only the easiest but it ensures the best coating for the pretzels. (in the bowls, all the ingredients seem to drop down into the bottom of the bowl and are hard to move around after that.)
Instead of pretzel twists you can opt for pretzel sticks, pretzel crisps, pretzel snaps or any pretzel shapes. If it's a hard pretzel, it should work just fine.
These seasoned pretzels will store well in an airtight container for up to 5 days. If they last that long, because ours never do.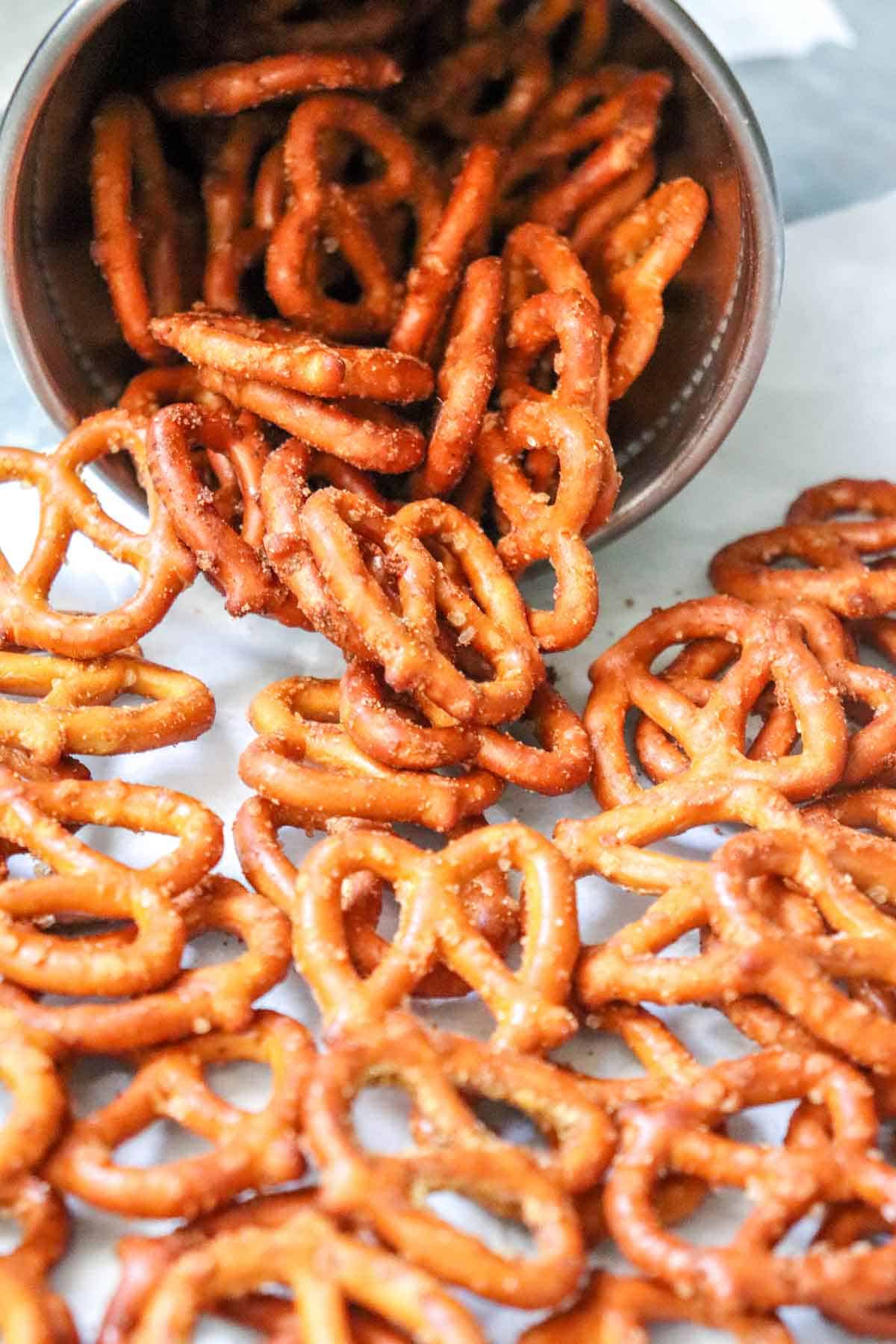 Recommended Air Fryers
These are the three air fryers we recommend. We will not recommend an appliance that we don't own in our own kitchen and these are almost always the different appliances we test all of our recipes on.
Your blender will be a personal choice, but if you decide to purchase one through one of our links, we may earn a small commission.
Best Cooking Method for Garlic and Onion Pretzels
There are a lot of options for how to cook these pretzels. We've tried them all, and we have a favorite, but I'm still going to tell you how to do it all three ways so you can decide what is best for you.
Prepping
Method one: You need one large bowl. In the bowl, you will need to combine all of your ingredients and stir gently to coat evenly. Don't stir too much or all your toppings will fall to the bottom. If it does fall to the bottom too much, I recommend using a spatula to scrape it up and try to get it back onto the pretzels again. I do not actually prefer this method because it's too easy for the toppings to fall to the bottom.
Method two: You will need one Zip Top Bag – gallon size is the best. This is our preferred method because of the ease of coating all of the pretzels at once. In a zip top bag pour in the pretzels, then the butter and shake well. Do NOT expel the air. Once the pretzels are sufficiently coated in butter, add in the seasonings. Repeating the shaking. This time you may be shaking a bit more. Again, do NOT expel the air. It makes for more even coating when the pretzels have a lot of room to move around.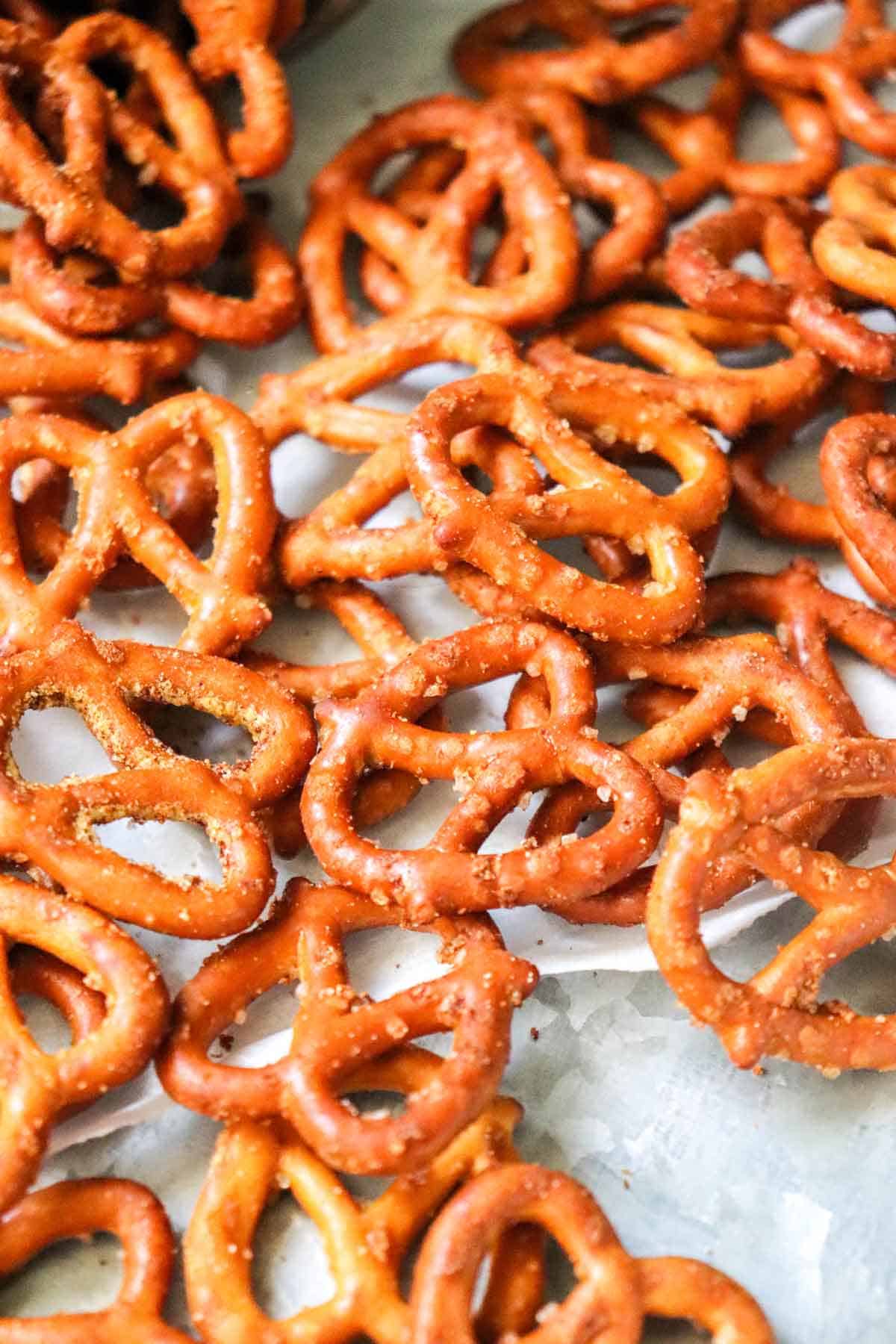 Now you're done with the prep, so move on to the cooking methods:
Cooking
Method one – The Air Fryer: This is the method we prefer. We felt like we had more control over how they cooked and we were able to get them sufficiently cooked on all sides. It is also a bit tricky and does require just a tad more effort. I promise the results were worth it.
Layer your pretzels in the bottom of your air fryer basket, do not do them all at once but in batches – we did about 2 cups at a time but our air fryers have large baskets, so you decide for what you have. Minimal overlap is ok.
Air fry 350 degrees for about 3-5 minutes, shake the basket halfway. Our air fryer had them done in the third minute. Due to the difference in air fryers, you might require more time and more shaking. Repeat until all pretzels are done. If your air fryer has a preheat cycle, do not put pretzels in basket until preheat is complete.
Method two – The Oven: This one is probably the easiest, but the timing never seemed to be correct and we felt like we had to turn our pan a lot to make sure all sides were cooking. Which is odd since our oven doesn't seem to have hot spots with anything else.
Layer your coated pretzels on a large baking sheet. Bake at 300 degrees for about 10-15 minutes. Check often and add more time if needed. You can and probably should flip them over about halfway.
Method three – The Microwave: We did not like this method or the results at all. But many recipes swear by this method, so we are giving it to you in case you want to do it this way.
Leave the pretzels in a large microwave safe bowl – if you start with a large bowl for stirring you can just use that bowl, provided it is microwave safe.
Microwave on high for 1 minute. Remove and stir pretzels gently to more evenly coat. Repeat for another minute. Repeat the stir. And microwave one last time and repeat the stir. Three minutes total. If they need one more, go ahead, but I haven't found that to be the case. Spread the pretzels out on a piece of parchment paper or a baking sheet and allow to cool. I will admit this is a pretty easy method that just requires you to be available to stir.
While there may be other method's to make the pretzels, these were the methods we had the most typical expected results with.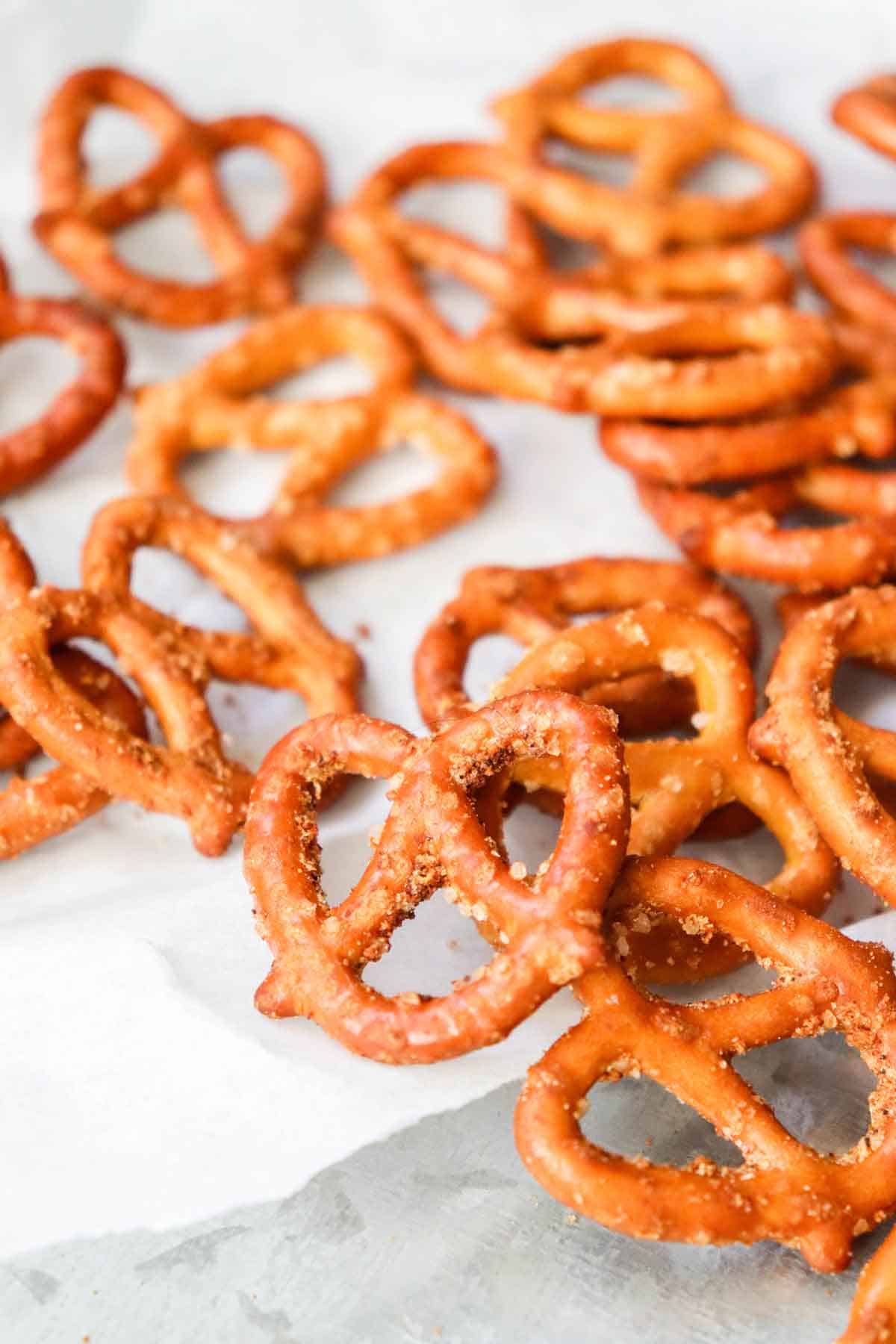 Delicious dips to serve with these
garlic and onion pretzels
Did you make one of our recipes?
If you make our recipe, please let us know! Tell us in the comments or you can take a photo and share it, tagging us on instagram, facebook, pinterest or twitter with #justafewingredients. We love seeing your creations!
Printable Recipe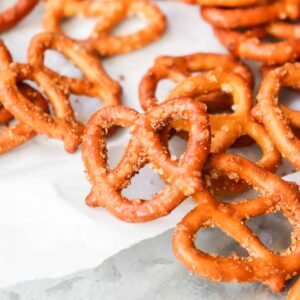 Air Fryer Garlic and Onion Pretzels
Savory and salty, garlic and onion pretzels make a great snack and are really easy to make. Just pop in the air fryer or use your oven.
Ingredients
16

ounces

mini pretzels

2

tablespoons

garlic powder

1 1/2

tablespoons

onion powder

1/2

cup

butter

melted
Instructions
Preheat your air fryer to 350 degrees F. If your air fryer doesn't have a preheat featured, move to the next step.

In a gallon size zip top bag, pour the pretzels in. Pour in the butter. Seal bag and shake vigorously to coat the pretzels in butter.

Open bag and carefully pour in the garlic and onion powder, seal and shake again until evenly distributed. If you want more flavor, add more seasoning now if you want.

Once done, layer in the bottom of your air fryer and air fry in batches at 350 degrees F for 3-5 minutes. Watch carefully since all air fryers are different.

Allow to cool completely. Store in an airtight container for up to one week.
Nutrition
Calories:
181
kcal
Carbohydrates:
27
g
Protein:
0.3
g
Fat:
8
g
Saturated Fat:
5
g
Polyunsaturated Fat:
0.2
g
Monounsaturated Fat:
2
g
Trans Fat:
0.2
g
Cholesterol:
16
mg
Sodium:
523
mg
Potassium:
21
mg
Fiber:
0.2
g
Sugar:
0.1
g
Vitamin A:
189
IU
Vitamin C:
0.2
mg
Calcium:
5
mg
Iron:
0.1
mg